What happens in a Crystal Healing or Reiki Session?
At Crystalpaths I design individual programmes of Crystal Healing or Reiki for you depending on your condition and what you need. I provide a safe and comfortable space in which you can relax and spend the time purely for yourself. I continually monitor your comfort, and responses to the healing treatment, throughout all sessions.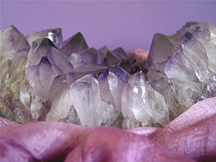 Your first session includes a detailed consultation about your state of health, lifestyle, and how you are feeling, physically and emotionally. Crystals are then carefully chosen for you so that you can begin the healing process, or you may decide that Reiki feels right for you. Each subsequent session includes plenty of time to talk, a review of the effectiveness of the treatment, and any changes of crystals or crystal treatments that may need to be made. The first session lasts for around one and a half hours and subsequent sessions around one hour.
After our discussion and assessment, you relax on a couch, fully clothed, while I place the crystals around you or on you, or channel the Reiki energy to you. You may like to listen to meditative music. When you have absorbed the crystal energies they are then gently removed.
Reiki Healing comes to an end when the energy has been channelled throughout the whole body, finishing with the feet.
We can then discuss how you felt.
Sometimes crystals are chosen for you to take home to continue the healing process.